// php the_content(); ?>
Productivity hacks and productivity tools while working from home are becoming increasingly popular every day. Before jumping into the work-from-home productivity tools, here's an extract of why it matters to YOU.
A whopping 88% of firms worldwide made remote working a norm or encouraged their workers to work from home during COVID-19. Many businesses have even issued new rules on remote working using a hybrid model or a full-time working from home.
Most likely, even you've seen a fall in your productivity levels due to the changes in your working environment.
This productivity drop has wreaked havoc on the traditional workplace, necessitating a greater demand for productivity tools.
With so many factors impacting your productivity, this is anticipated. So, how can you ensure that you or your team remains productive?
How about productivity-boosting tools while working from home?
Keep reading to learn how technology tools help remote workers stay productive and focused.
Why Remote Workers/Teams Should Use Productivity Tools
Working from home can make it challenging to match workplace productivity, resulting in businesses facing lower output or longer hours.
Most organizations that switch to remote work forget to scout out and identify tools suitable for their remote teams.
When you use productivity tools while working from home, you can be more productive and work more efficiently together.
When And Where Do You Need Productivity Tools?
Our list of productivity tools while working from home has been classified by certain factors, such as project management software, time productivity tools, scheduling, etc.
Time Management
Time is one of the most precious and valuable resources we have, yet many people don't utilize it to its full potential.
However, managing time at work is crucial for productivity and performance. Managing time will accelerate your efficiency, help meet deadlines, and produce better quality work.
It would help if you had efficient time management tools to prioritize your tasks. With the right time management tools, you can grow sustainably and take advantage of new opportunities.
Project Management
You can use project management tools to manage complex projects and track the progress of tasks in a project with ease.
It is impossible to understate the importance of project management tools in complex and huge projects, which help run the business more smoothly.
By focusing on the work that matters, you or your teammates can be free from distractions caused by off-track tasks and out-of-control budgets.
In turn, the business can produce results that have an actual impact on profits. Additionally, it lets you know how your work impacts the company's strategic goals.
Calendar Management
Do you ever feel there is never enough time in a day? Are deadlines constantly slipping up on you? Does doubling up on appointments become a pattern for you?
All of us have experienced these at some point in our lives. Rather than living this way, you can learn how to manage your time better.
A calendar management tool comes in handy here, and choosing the best calendar organizer for yourself is essential, which is no longer done manually.
When scheduling an appointment or event, scheduling assistant tools eliminate most back-and-forth communications.
You can share your calendar with others via email or a link with a calendar management tool. The other person can then choose a time and date that works for you. Therefore, your calendars are automatically synced.
Password Management
Initially, when the Internet was just getting started, we only had two or three passwords (email, website, etc.). As technologies develop, we now have tens and hundreds of passwords, some of which are not even used more than once.
Password Managers are a one-stop solution for this problem. You can use it to create, manage and secure passwords for different services. Other features of password management tools include password strength checkers and mobile password managers.
Effective Communication
Every business values connectivity. This has led to a greater focus on communication tools in recent decades. These tools offer businesses better connectivity and flexibility.
With features like instant messaging, social timelines, etc., teams can connect with colleagues and other departments in no time.
In addition to being faster and more user-friendly, communication tools allow employees to be more productive and aligned.
Collaboration
Have you experienced a lack of collaboration at the workplace? Effective collaboration within teammates or an organization is never easy unless you have the right collaboration tools.
You might have siloed departments at your companies, too many colleagues working remotely, or unproductive meetings that eat up staff time.
Collaboration tools can help avoid time-wasting since users can share information and resources instantly and effortlessly.
This article aims to help you be more productive while working from home, both as an individual and team member, by solving the most significant problems you're likely to face as a remote worker.
Check out the 10 free tools to help you remain focused while working from home.
10 Best Productivity Tools While Working From Home
Juggling into multiple productivity apps can be overwhelming at times. To solve this, we have put together a list of the 10 best free productivity tools that can genuinely make successful remote working.
1. Notion
Category - Project Management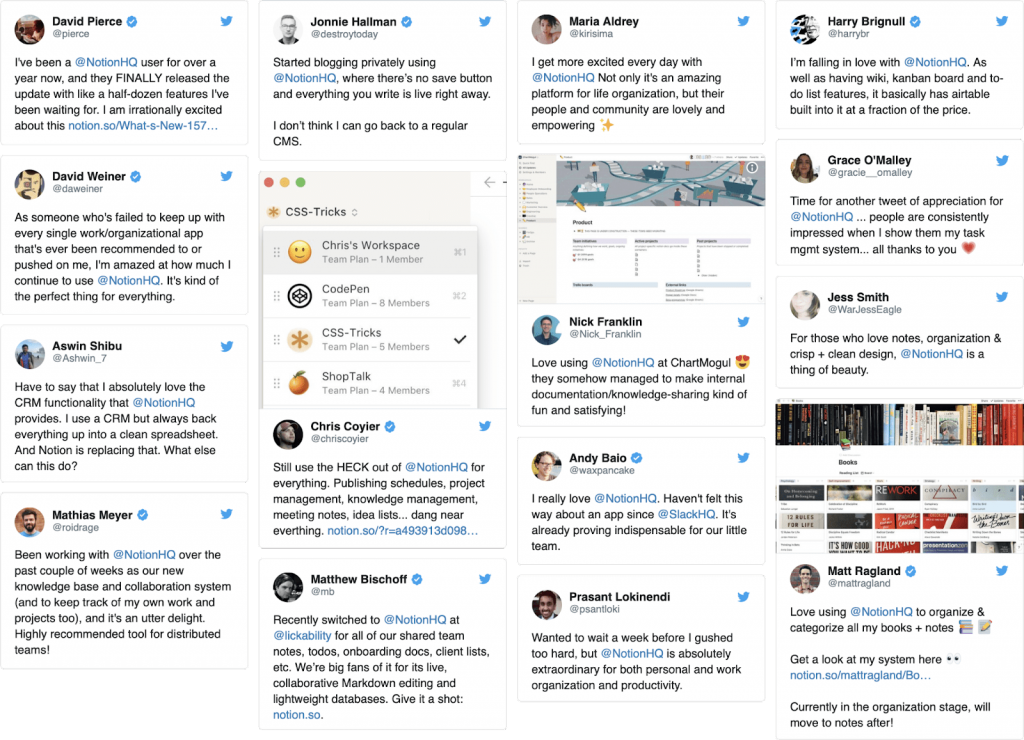 Notion is a project management software where you can access various productivity tools under one platform. It offers many features, such as:
notetaker
modified markdown system
built-in document linking
creating databases
creating checklists
habit trackers
calendars
task management
While it holds task management and integration features, the high spot is on its note-taking feature.
It's a user-friendly app for storing and organizing information for future access.
With Notion, you can tailor the way you work and simplify your activities. It renders on four subscription packages: free, personal, team, and enterprise. It works great for small and large remote teams.
2. Brave
Category - Web Browser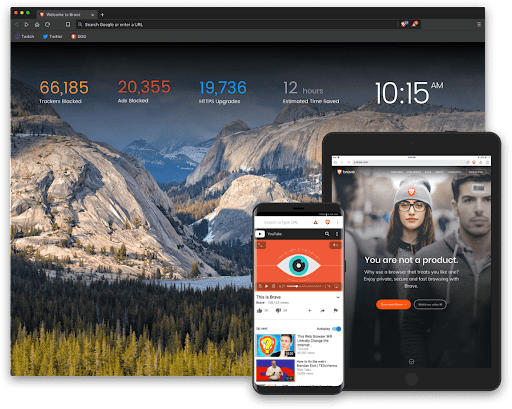 Brave is an open-source, privacy-oriented web browser that, by default, bans online ads and website trackers.
Brave also gives users the option of turning on optional advertisements that pay them in Basic Attention Tokens (BAT) money in exchange for their attention. Mobile versions of the Brave browser (for iOS and Android) are available in the App Store and Google Play.
Brave is popular for its better privacy policy by not collecting users' browsing activities.
3. Grammarly
Category – Writing Assistant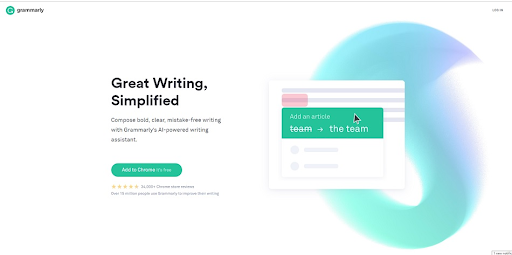 Grammarly is a writer's assistant. It provides spelling, grammar, punctuation, and clear and constructive writing suggestions that help you within your organization and enable better communication. In addition to proofreading, it can also provide advice on the tone of your copy. Grammarly's tone feature lets you set custom goals relating to texts' intent, audience, style, and emotion. It then assigns a score based on how effectively the text achieves the defined objectives.
Grammarly is an excellent solution for regular use, which will help you perfect your grammar and writing skills.
4. Google Drive
Category – Cloud Storage and Collaboration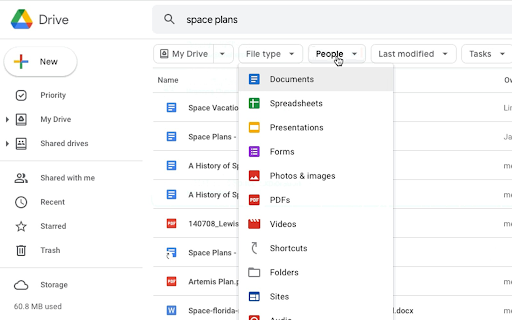 In Google Drive, you can access a complete set of office tools and cloud storage. It includes a word processor, spreadsheet program, presentation maker, and 15GB of free storage.
Google Drive is readily available to anyone who has a Google account. You only need to enable the service at https://drive.google.com/.
You can create and share documents online with Google Drive and access them anywhere. Google Drive is available on Android, iOS, Windows, and macOS.
This productivity suite is one of the most popular work-from-home applications for storing and sharing information.
5. Loom
Category - Screen and Video Recording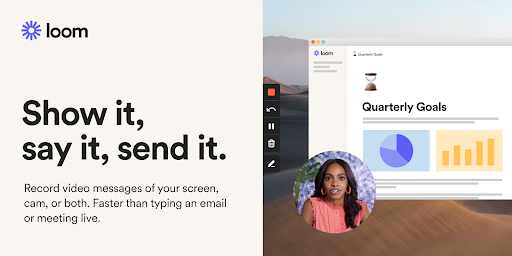 Loom is an incredible screen recording tool when you need to prepare a quick demo or presentation for colleagues who work in various time zones or have different work patterns.
You can record your computer screen, create markups with visible faces, and send the final video to others via a shareable link.
It is available as a website, Chrome extensions, desktop apps for Mac and Windows, and mobile apps for iOS and Android.
6. Toggl
Category - Time Tracking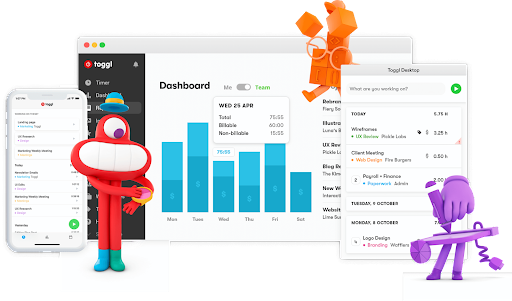 Toggl is a simple time-tracking app for remote teams. You can use it to keep track of your working hours in real-time so that you and your remote working teammates can stay productive and prevent time loss.
It gives you a single-click way to keep track of each task and activity. You will also be notified whenever you forget to start or stop the timer with tracking reminders.
While the toggl tracking app is free, upgrading to paid plans allows you access to advanced reporting and project management tools.
It is available on Windows, macOS, iOS, and Android, and premium subscriptions start at $20 per month.
7. Forest
Category - Focused Work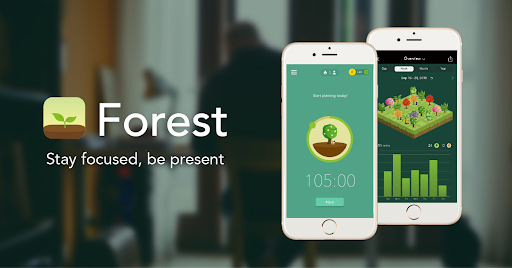 Forest is perfect for people who find it hard to put their phones down and focus on one thing at a time.
Using Forest, you can plant a tree whenever you want to focus on a task. This tree will grow as long as you don't touch your phone and stay focused. The tree kicks the bucket if you exit the app before completing the task.
Over time, users can grow an entire forest from these trees. Players are rewarded with additional tree species and calming sounds to make the game more fun.
Forest has partnered with Trees For The Future to make things even better. They allow users to redeem their coins for real-life tree planting. It is available for iOS and Android.
If you are a remote worker and don't want to be distracted by browsing social media feeds, Forest is a great tool to help you focus on work and stay focused.
8. LastPass
Category - Password Management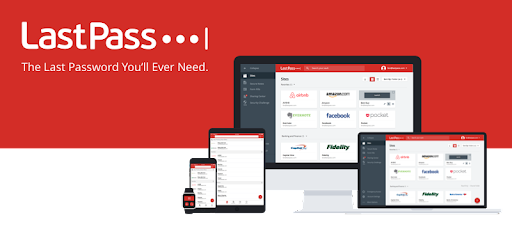 LastPass is a freemium password manager that saves encrypted passwords online and supports bookmarklets.
The content in LastPass, including passwords and secure notes, is protected by one master password.
User content is synchronized across all devices installed by the LastPass software or app extensions.
LastPass is an extension to many web browsers, including Google Chrome, Mozilla Firefox, Apple Safari, Microsoft Edge, Vivaldi, and Opera.
It also has apps available for smartphones running on Android, iOS, or Windows.
9. Pomofocus
Category – Pomodoro Timer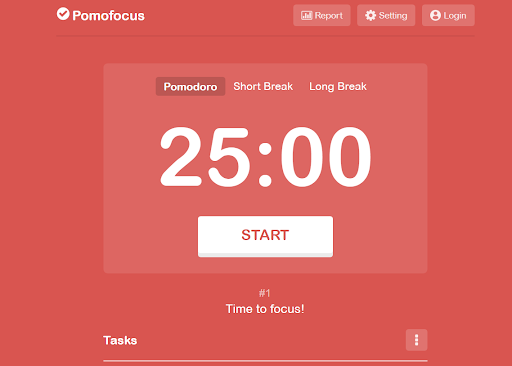 Pomofocus is the closest you can get to a simple timer like your smartphone. Pomofocus is a web-based timer that anyone can use to track their productivity.
The timer counts down the minutes in your Pomodoro sessions with the countdown displayed on the URL title bar by hitting the play button.
Pomofocus is developed based on Francesco Cirillo's Pomodoro Technique, a time management strategy.
It employs a timer to divide work into 25-minute intervals interrupted by short breaks. Each interval is referred to as a Pomodoro.
Many professionals have endorsed the Pomodoro technique, which has helped boost their productivity. Thus, popularized by many apps and websites that provide timers and instructions to follow this technique.
10. Noisli
Category – Application Sounds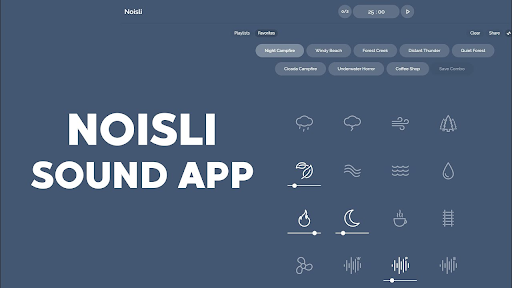 Noisli is the most visually stunning app that combines different sounds to create an environment that will help you focus.
You can set the volume slider to create different sound environments by activating the app's sounds - such as water, rumbling train, fireplace, etc.
Besides creating your combos, you can listen to the curated playlists to get ideas and be inspired to create new sound combinations that match your vibe.
A basic, distraction-free text editor is included with the Noisli web app, and a color-changing backdrop is also available to aid work or relaxation.
Ready to Maximize your Productivity While Working Remotely?
The problem with remote working is there's no 'one size fits all solution.
Therefore, it's best to not only shop around for solutions that fit your team but to approach remote and hybrid work models with a broader perspective.
The longer the pandemic lasts, the more critical it is to increase the productivity of remote workers.
Using these work-from-home productivity tools will help you stay motivated and engaged and will surely aid in keeping your productivity levels high.
Please share these blog posts with your fellow remote workers and colleagues and help them benefit from the above-mentioned work-from-home productivity tools!