// php the_content(); ?>
The pandemic hit the economy hard, but it also opened the door to several opportunities. Nobody in their wildest dream imagined working at home, sitting on their comfortable couch, and attending meetings in their pyjamas. But, as honestly said- life is unpredictable; you never know what's waiting ahead. One such opportunity that always existed but was recently brought into the limelight was freelancing and gig working.
What is Freelancing?
You might have heard of this term on multiple occasions. Well, it has now become the big talk of the town. The FOMO culture made people curious enough to dig the mystery behind this newly born career path. Earlier, people followed their passion for relaxing and taking a break from their hectic schedule. Still, freelancing made it possible for them to monetize their passion or skill by offering their services digitally. The hobby, which was earlier quoted as a time-pass, can now be the bread and butter of someone's life.
Freelancing gives the freedom of being your boss. You can handle any work at any time and charge your services accordingly. You work as an independent person handling project-based work or as per your contract. It doesn't bind you to any long-term commitment; you no longer have to go through the constant cycle of tedious paperwork as freelancing opens the path of experimenting and digging deep into any field that interests you.
It is a flexible career path that can give you autonomy and control over your income. If you are sick of tiring work hours or unsure of your career choices, then freelancing can be a medium to experiment with your skill, pick and choose, and act as a testing phase of diving deep into your interests.
Top 5 In-demand Skills in Freelancing
Freelancing gives you the freedom to choose a particular career path in any field. The best part? You can switch roles anytime you wish to.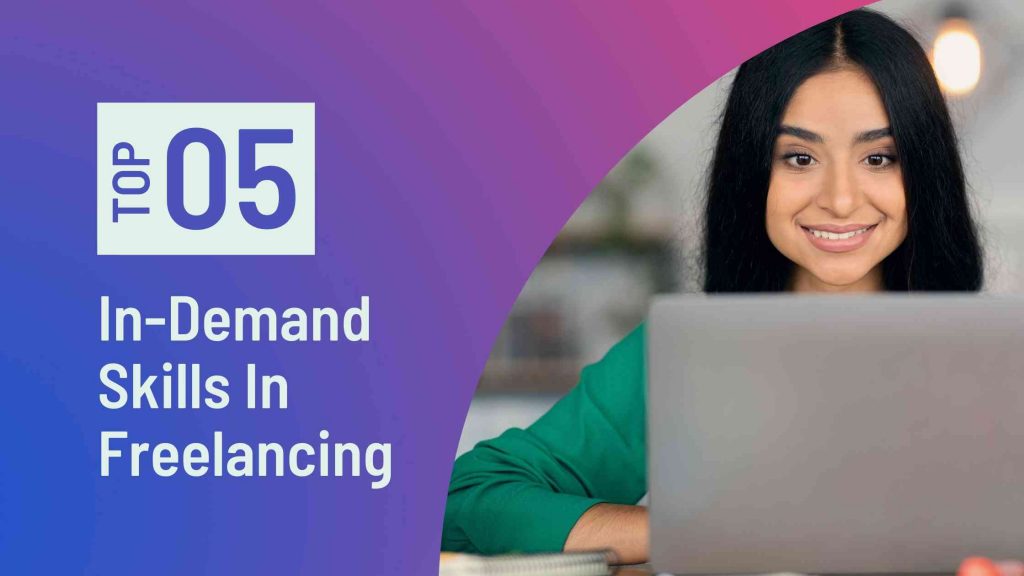 Some of the hottest fields that are in-demand right now are:
1. Freelance Developers
Blockchain is one such field that has been stealing the limelight for quite some time now. The new NFT and crypto craze is increasing the demand for developers is more than ever.
Since the demand for developers is more, it's not hard to get into this field and build a career, but you also need to have the right skillset to become a developer.
The different role sets of developers that you can choose from are:
Blockchain developer
Web/App developer
Frontend developer
Backend developer
Game developer
And, here are 5 trending programming languages that are highly in demand. Having mastered at least one of those programming languages will fetch a great deal of weightage to your profile.
2. Freelance Designers
With the whole world shifting to digital, the demand for visual creators has grown more than before. Before the pandemic, designers best fit the design industry. But, with the changes in this growing scenario, every industry needs a designer to communicate their product with the audience via visuals.
The various field of designing one can freelance in are:
Web/App designer
Graphic designer
Product designer
UI/UX designer
Game designer
3. Freelance Video Editors and Animators
In the era where content is the King, the demand for video editors and animators is growing massively. Video is growing to be one of the widely accepted forms of online content. With the growing popularity of video platforms like Tiktok and Instagram reels, the demand for freelance video editors and animators has increased drastically.
The various roles that come under this field are
Video editors
2D animators
3D animators
4. Freelance Digital Marketers
With the companies shifting to the digital, digital marketing has become the language to showcase its vision and growth and build public relations. It is the new medium of leaving a mark on the existence of Companies in people's minds.
The various role in this field is
Content Writer
Copywriter
SEO expert
Ad expert
Email marketing and many more
The list continues. There are an endless number of fields you can choose to start your freelancing journey. And, if you can monetize your undefined skill, it adds another field to the list.
You can explore more of such freelancing fields here. 
How to Be Successful in Freelancing?
There is no mojo or a secret sauce that can make you a successful freelancer overnight. You have to put your blood and sweat into it like any other career. If you are consistent with your efforts, your hard work will pay off.
To succeed in freelancing, you need to cultivate these qualities in your lifestyle:
1. Time Management
Let's say a freelancer takes four days to complete a project, while another freelancer can complete the same project in two days. It would be best to decipher which category you want to fall under and set a value for your time. Set a target for the number of projects you can handle at a specific time, don't exceed it as it may hamper your quality by pressurizing you with the deadline.
2. Honing Your Skill
Regardless of your success level, it will not take much time for you to fall. Confidence in terms of skill is reasonable, but don't let the ego of being the best enter your mind. It can rust your skills in no time. Keep unlearning the outdated knowledge and update your skills from time to time. Don't hesitate to learn from others and adapt to the change. The person who walks with the change will never be left behind.
3. Distance Yourself from Greed
After watching several freelancers around you making their way to six figures, your mind will try to distract you from your goal. But don't fall for those big numbers. Instead of chasing those big numbers, try to deliver the best client experience, maintain good relations, and be genuinely helpful to people.
Success is highly uncertain and cannot be predicted, but your efforts are in your control. You can either get pissed off by the small rejections and failures or get carried away over small achievements. Consistency is the key that can help you in the long run.
4. Be Disciplined
One such underrated quality that most freelancers fail to adapt in their freelancing career is Discipline; it doesn't only mean waking up at 5 a.m. or sleeping on time. In the world of freelancing, you need to be disciplined with deadlines, work completion, and updating your skills.
Discipline ultimately determines if freelancing can be a career option for you or not.
Pros and Cons of Freelancing
The negative and positive of any field are not pointed out to haunt you for your bad choices. It just gives a glimpse of the upcoming challenges that can build you stronger or become a hurdle to your growth. The below-mentioned points will help you make a rational decision that might not put you in guilt later.
Pros of Freelancing
Here is the list of things that should motivate you to choose freelancing as your career option:
Limitless opportunities to discover and learn- Freelancing gives you the freedom of falling and rising again. Bad client experiences act as a mirror of reality that can be your guide in the future to avoid lousy work decisions.
You need not spend three years of your precious time or wait for your degree to discover your interest through freelancing. You can choose any career path without any certifications to back yourself with proof of work. Most importantly, it gives global exposure to work. Imagine sitting in a third-world country and interacting with first-world country clients. You benefit from being paid in their currency and creating a worldwide network.
The freedom of making a choice- You can work as little as you wish and as much as you want. You need not keep your eyeballs stuck on the clock every time you are assigned work. You can choose your work hours and decline any work that doesn't fit your plate. In short, you can be the boss of your own life.
Flexibility in Income- Your income is not fixed like any other job. You get to decide your income as per the work you take up. You have the power to negotiate your charges with your prospects and clients. You need not follow the same pattern of fee for years. Freelancing gives you the freedom to decide your fair pay and reject a low-paying offer anytime you wish.
The power to say 'No' – Often, people are compelled to invest their time into something they don't feel excited to work and talk about. But freelancing gives the power of declining any offer that doesn't suit your interest or price. As a freelancer, you are not liable for any justification for rejecting an offer. You are free to act as per your will.
Cons of Freelancing
The Cons of any field acts as a reality check and shows the sweat of compromises behind the glamour. Here are a few when it comes to freelancing:
Imbalance in professional and personal life- While you are freelancing, nobody has your back. You are accountable for your failures and success. Your professional and personal lives are not differentiated by any fixed number of hours. Mentally, you are 24/7 into the project that might put you under anxiety or mental pressure as the workload increases.
Empathy cannot be expected- When you promise to complete the task at a particular deadline, some uncertainties amid the work might be a hurdle to fulfilling your commitment on time. Whereas at a workplace, people can relate to your problem and empathize with it. In freelancing, you cannot expect that from all your clients since they do not have the relationship or the trust to understand the reason behind your delay.
Inconsistent income- You can earn more than your regular job in freelancing, but it's also true that there is no security of income while working as a freelancer or a full-time gig worker. Your income is proportionate to your ability to retain a client. Sometimes you might earn more than you expect and save enough for a vacation, and sometimes the paycheck may not be enough to pay off your bills. The income flow is not definite, and it might become trouble in managing your expenses if you aren't prepared.
Difficult to build trust – To get a job, you have to put in a one-time effort to showcase your efficiency. Freelancing demands a consistent commitment to building a brand. It's hard to build trust when there is not enough communication between you and your client. That's where personal branding steps in. It is like an identity card for you as a freelancer. You might verbally communicate your efficiency, but a brand is more potent in echoing your skills. Not everyone can build a brand, and that's what differentiates you from the crowd.
A Roadmap to Freelancing for Beginners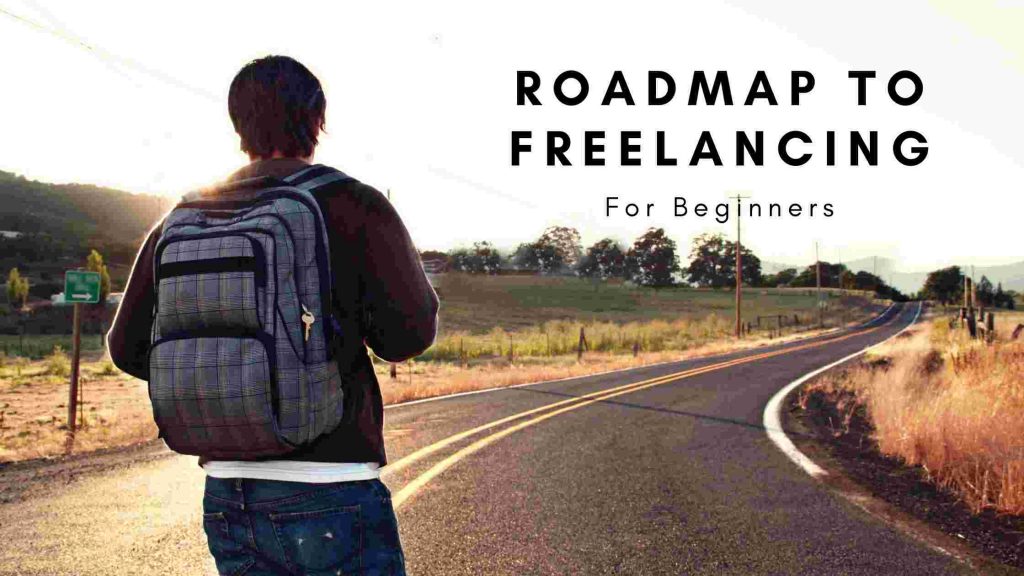 Keep your learning glasses on. Let's gather the bricks of effort that you'll need to build the foundation of your freelancing journey.
Here is the detailed beginner's guide to freelancing.
1. Find a Profitable Niche
To become a successful freelancer, you need to find a niche that you specialize in, making you irreplaceable among other freelancers in the same field. You can find it by comparing the demand and supply in that niche. Go to any freelancing Platform like Fiverr or Upwork and analyze your competition using its search engine. As you go deeper into the niche, you will find the number of services offered being narrowed down, which can help you identify your place among the pool of freelancers.
2. Identify Your Skill
It's the first step for you to define your role as a freelancer. Though it's not a tough job, believe me shortlisting one among the pool of skills you are most good at is not very easy too. Let's make it easier for you. Think of anything that excites you to talk about and will pursue no matter whether you get paid for it or not. You know when your eyes get lit, and that spark shows up whenever you do something you enjoy. What's that one skill that keeps you hooked longer than a Netflix series? Keep asking such questions to yourself, and you'll end up with an answer that will wipe out your confusion and help you discover the skill you're good at or at least you want to pursue.
3. Gain Expertise Over Your Skill
Some people start believing that they've mastered a skill after watching a couple of YouTube videos. That's a wrong way of learning; you need to dig deeper. Look up to the industry experts; know the pros and cons of the skill; identify the weakness that restricts you from excelling; work on that weakness and turn it into your strength; keep learning and practising until you feel confident enough to take up projects. You can either learn in one week or take six months to master it, but no matter how much time you take, you should keep that learning spirit alive forever.
4. Start Small
You can't expect an MBBS graduate to perform real-life surgery based on the theories; he needs practical experience. Likewise, reading some books or watching videos is not enough for you to call yourself an expert. You have to get your hands on actual work.
If you are a designer, start designing for some brands as samples. If you are a content writer, write blogs, articles, or post content, start taking feedback on your projects by offering help. In return, you can collect testimonials and feedback that would not be less than any reward for you as a beginner.
Working for free is a way to build a social proof of your work. Offering help for no money doesn't mean free labour; you can ask anything alternative to money, either a name mention or referrals or testimonials that can back your work with trust.
5. Create Your Portfolio
A Portfolio is a collection of all your work proof and samples with testimonials. It can be an attractive way of getting clients. Random links from google drive might not help build a relationship of trust that can benefit you in the long term.
You can't expect to get high-paying clients by sharing google drive links of your work. You have to differentiate yourself from mediocrity and stand out. To build a portfolio, you need not hire an expert. You can visit some free websites such as Flipsnack, Behance, dribble, adobe portfolio, etc., and design it the way you want at no cost.
You can watch this video for a step-by-step guide on making a freelancing portfolio.
6. Set Your Rates
Most freelancers make a common mistake as beginners of not fixing their rates. Due to this, most of the time, they end up getting underpaid or feeling guilty later on for not charging high. First, you need to identify the stage and criteria of freelancing you fall into and take action accordingly.
If you are a beginner, don't compare your rate with intermediates. Look upon your level, analyze the competitor's prices and then charge accordingly. Don't bet on random guessing to define your work; break your fee structure according to your work and the time utilized and don't undervalue your time; increase the charges only if the demand for your work is more significant than what you can handle at the current moment.
Here's a detailed video on how to set freelancing rates.
7. Build a Personal Brand
You can start freelancing and succeed, but you will only be able to scale if you can build a personal brand. Build your online presence. Beware that the platform you choose depends on the type of audience you're looking for. Do some research and be wise in choosing the right platform for building your brand.
The most popular platform for freelancers to find gigs is LinkedIn. Start putting the content of your niche on that platform that will not only find clients but will also gain great exposure. You might be tired of sending long pitches to introduce you and your work for every new gig, but with personal branding, you need not introduce yourself every time you work with a new client; rather, your brand speaks for you. 
How to Find Clients as a Freelancer?
'Where to find gigs?' or 'How to find freelancing jobs?' are the most commonly asked questions. And the answer to that question changes with time. Getting a client is not easy as it seems but also not complicated as you think.
You keep hunting for your ideal clients everywhere, send the same email pitches to 100 prospects every day only to see yourself fail to convert them into paying clients. It's because you follow the wrong approach to find them. First, you need to define your ideal client and reach them accordingly. Know where the people of your niche hang out and communicate.
Facebook and discord groups are a great source of finding clients and a spot for several scammers. You need to know how to filter them to find your gig. Sharing your work and content in these groups catches the attention of several clients, and you might end up working with one of them.
However, several freelancing platforms like Upwork, Fiverr, and people per hour are crowded with several freelancers and have a great degree of competition. Instead, you can work on your branding and attract trustable clients via social media platforms.  
Bonus Tips to Finding High-paying Clients
You can search for agencies looking for freelancers in your niche; you can join them as freelancers and gain experience and create a network through it and work independently.
Look for new businesses and startups around you. Since they have a budget restriction, it can help you as a newbie freelancer to network and form connections by charging less when starting your career. Workflexi is one such platform that can help you find gigs or freelance projects from startups and small business. You just need to create a profile and optimize it according to your skill. This alone can increase your chances of landing your first gig by 90%.
Make a profile on LinkedIn and keep posting content there, be active, and then look for people hiring a freelancer by clicking on the jobs section.
More of this can be found in this video on tricks to finding new clients.  
Where to Find Your Freelance Mentor?
YouTube has earned the tag of being a universal mentor and lifesaver for a self-taught freelancer. You can either take up inspiration from successful people around your niche or peep into the content of experts in the field for guidance. As a beginner, you can mimic their style, mould it into your personality when you implement it into your work.
Let yourself not be lost in the journey.
Here are some mentors from different fields who can be your companion on your freelancing journey:
1. Shreya Pattar- Popularly known as the LinkedIn girl, she can be a great source of inspiration for all newbie freelancers. She regularly posts content on her YouTube channel and other social platforms. Her Instagram story Q/A are like mini guidebooks for anyone who wants to pursue their freelancing career in the content Writing niche.
2. Saheli Chatterjee- As her name says, she stands by a friend for all the freelancers. She never restricts herself from sharing knowledge for free. You can find tons of gold content on getting clients and building your brand on her YouTube channel. And if you want to get into content marketing, then taking up a dose of her content might benefit you as a newbie.
3. Neil Patel- With his blogs and articles ranking on the #1 page of Google, he has earned the title of being an SEO king, and now he is sharing his inside process and knowledge via YouTube to build a strong SEO army. So, if you want to start as a freelancer in SEO, then his channel is a must-watch.
4. Abi Connick- You might have often heard that we learn things better when taught in a fun and enjoyable manner. Abi fits right into the characteristics of a friendly mentor. She shares her entire logo design process from start to end. Her channel is a treat to watch as she pours her personality into her process. You might fall in love with her designs and redesign the series. If you are passionate about logo designing, you can check out her channel.
5. Code with harry- If you're starting as a programmer or coder, then his channel can feed you with tremendous knowledge. He makes boring content easy and simple to understand. He consistently posts quality content, so it might not create a gap in your learning period.
6. GFX Mentor- This channel is a gold mine and highly underrated. The tutor is not only experienced in his field but also very skilled. He makes complex software appear easy through his teaching, so if you want to start as a graphic designer, his channel can be of great help.
7. Daniel Schiffer- His channel is a great help for all the video editors. He teaches the cut and edits and understandably. Usually, the content of his videos is short and crisp, and to the point, so it can save your time, and you can learn things better and faster.
8. Digital Deepak- YouTube channels that teach digital marketing from scratch are pretty rare. He not only posts content on digital marketing but also shares the journey of other freelancers via interviews. It helps freelancers of different niches avoid such mistakes that hamper their growth.
Some more mentors that you can take inspiration from are H- Educate, Benny Productions, Alex Cattoni, Neville, Satori graphics, NAV Edits, and the list goes on and on….
Conclusion
If you find the right way to dig into the internet, the internet is a gold mine. The first sign that shows your dedication towards freelancing is that you made it to the end.
Your second-best move will be to not wait for tomorrow. It's rightly said the best time to start anything is today.
'Opportunities don't happen; you create them'. Some days might break you, while some days will take you to cloud nine. Freelancing is a roller coaster ride. A journey that will teach you something new every day and make you a better version of yourself.
Remember:

'Don't fear for the results; enjoy the Process.'